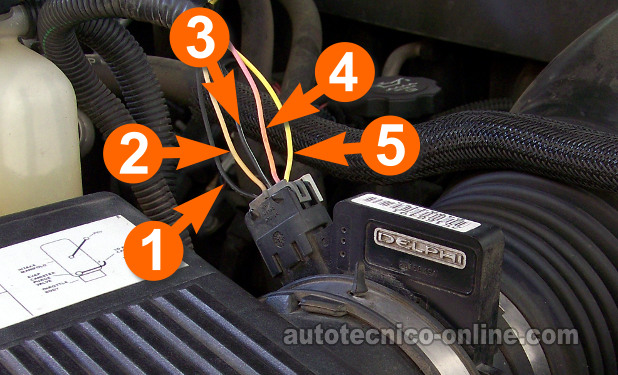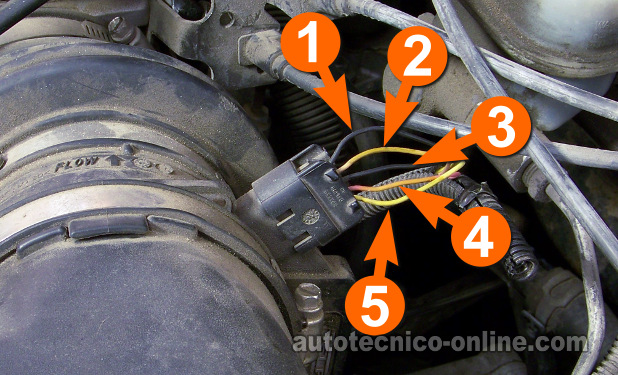 Este tutorial te explicará cómo probar el sensor de flujo de aire (sensor MAF) en tu carro, camioneta, de la GM usando un multímetro digital. No necesitas un escáner. El multímetro digital, que necesitas usar tiene que tener la función de leer frecuencia Hercios.
Este sensor MAF es usado en varias marcas y modelos de la GM. Para saber si este tutorial aplique a tu vehículo específico, échale un vistazo a la lista intitulada aplica.
Si por acaso este tutorial no aplica a tu vehículo particular, échale un vistazo a los siguientes tutoriales:
Cómo Probar Y Diagnosticar El Sensor MAF De GM Buick, Chevy, Olds, Pontiac, GMC, Isuzu: 3.1L, 3.4L, 4.3L, 5.0L, y 5.7L (1996-2005).

Puedes encontrar este tutorial en inglés aquí: How To Test The MAF Sensor (GM 4.8L, 5.3L, 6.0L, 8.1L) (en: easyautodiagnostics.com).
Síntomas De Un Sensor MAF Defectuoso
El más obvio es que la luz de control del motor (CEL) estará encendida en su grupo de instrumentos y volviendo locos. Aquí hay un par de otros:
El síntoma más obvio, cuando falla el sensor MAF, viene siendo que la luz indicadora del motor estará encendida por uno de los siguientes códigos:
P0101:
P0102:
Vas a ver uno o más de los siguientes códigos:
Códigos de mezcla extremadamente rica o pobre.

P0171, P0174

Falta de fuerza al acelerar el vehículo en carretera.
Humo negro saliendo del tubo de escape.
Marcha mínima inestable y el motor se apaga repentinamente.
¿Qué Herramientas Necesito Para Probar El Sensor MAF?
La herramienta más importante que necesitarás para probar el sensor MAF es un multímetro digital que pueda leer frecuencia Hercios.
Aunque un escáner es una herramienta imprescindible para poder diagnosticar las fallas del sistema de inyección electrónica en los vehículos modernos, no necesitas uno para poder verificar el rendimiento del sensor MAF.
Circuitos Del Sensor MAF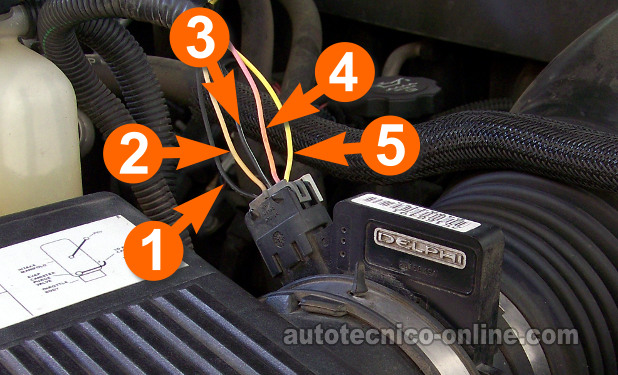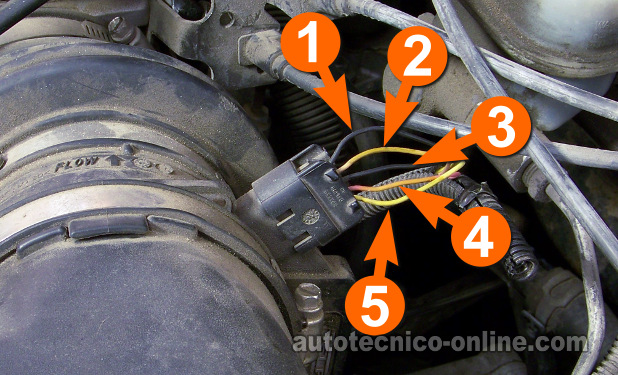 Si le echas un vistazo al conector del sensor MAF de tu vehículo, notarás que tiene 5 cables saliendo de su conector eléctrico.
Para poder diagnosticar el sensor MAF, necesitas saber la función de cada uno de esos cinco cables. A continuación encontrarás una descripción breve de cada uno de ellos:
Circuito 1:

Sensor de la temperatura del aire de admisión.

Circuito 2:

Sensor de la temperatura del aire de admisión.

Circuito 3:

Entrada de Tierra.

Circuito 4:

Entrada de 12 voltios.

Circuito 5:

Salida de la señal MAF.
No incluí el color de los cables porque los circuitos del sensor MAF son los mismos sin importar el color del cable o el modelo del vehículo.